Opening drives
Slimchain 230 V
*
Chain drive in an attractive design with numerous possible applications in 230 V version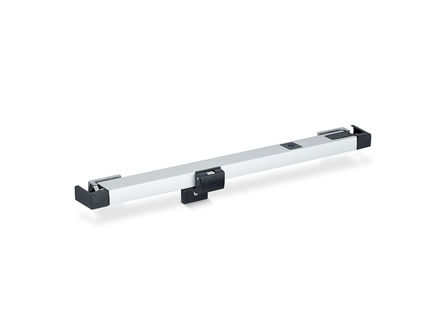 Can be integrated perfectly into the façade design thanks to its slim and discreet look
Fast and easy installation with the Smart fix installation system
Direct 230 V connection of the drive via a connection terminal with cable plug
Concealed 230 V line-feed
Direct access to the electronics for parameter setting via service cover
Drive stroke with variable adjustment
Contact us
Chain drive in an attractive design with numerous possible applications in 230 V version
Application Areas
Natural ventilation in the façade area
Inward- and outward-opening windows with bottom-hung, top-hung and side-hung leaves
Outward opening projected top hung windows
Installation on wooden, PVC or metal windows
Leaf, frame or integrated installation
Technical data
| | |
| --- | --- |
| | Slimchain 230 V |
| Space needed on frame (min.) | Frame installation inward-opening: 40 mm, leaf installation inward-opening: 16/21 mm, frame installation outward-opening: 31 mm |
| Space requirement on leaf (min.) | Frame installation inward-opening: 40 mm, leaf installation inward-opening: 34/29 mm, frame installation outward-opening: 19 mm |
| Possible stroke heights | 200 mm, 300 mm, 500 mm, 800 mm |
| Opening speed ventilation | 5 mm/s |
| Closing speed | 5 mm/s |
| Force of pressure (max.) | 100 N (depending on stroke), see force-path diagram |
| Holding force (max.) | 2000 N |
| Tensile force | 300 N |
| Leaf weight | 200 kg* |
| Overlap range | 0 - 23 mm (depending on application and brackets) |
| Voltage at operation | 230 V ± 10 % |
| Operating voltage | 230 V |
| Current consumption | 0.3 A |
| Power consumption | 0,3 A |
| Power consumption | 30 W |
| Duty rating | 30 % |
| Special length of power supply cable | 5 m, 7.5 m |
| min. core dimension | 0.75 mm² |
| Number of cables | 3 cores |
| Temperature range | -5°C...+70°C |
| IP rating | IP30 |
| protection rating | II |
| Adjustable opening speed (ventilation) | Yes |
| Type of stroke shortening | Synchronising unit, Factory setting |
| End position cut-off extended | electronic, via internal path sensor |
| End position cut-off retracted | electronic via current consumption |
| Overload cut-off | Yes |
| Bottom-hung window INWARD-opening frame installation | Yes |
| Bottom-hung window INWARD-opening leaf installation | Yes |
| Bottom-hung window OUTWARD-opening frame installation | Yes |
| Side-hung window INWARD-opening frame installation | Yes |
| Side-hung window INWARD-opening door leaf installation | Yes |
| Side-hung window OUTWARD-opening frame installation | Yes |
| Top-hung window INWARD-opening frame installation | Yes |
| Top-hung window INWARD-opening leaf installation | Yes |
| Top-hung window OUTWARD-opening frame installation | Yes |
| Projected top-hung window OUTWARD-opening frame installation | Yes |
Safety notice
Falling window leaves can be a considerable risk to life and limb of persons in the vicinity. Therefore, the use of GEZE safety scissors is mandatory when using GEZE drives on bottom-hung windows.
*

Notice about the products displayed

The products mentioned above may vary in form, type, characteristics and function (design, dimensions, availability, approvals, standards etc.) depending on the country. For questions please contact your GEZE contact person or send us an E-Mail .